How's the Market in Marin and Mill Valley?
Keep up to date with the latest market insights, click on the reports to see the activity over the last 4 months.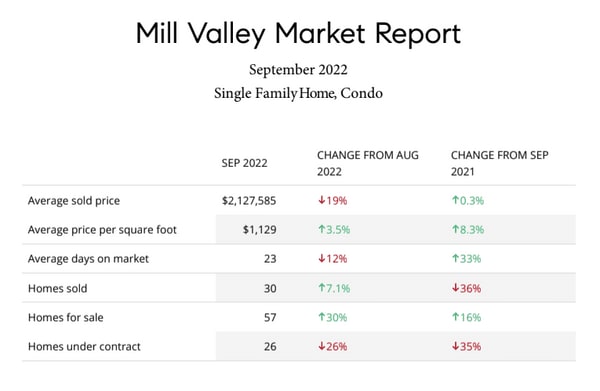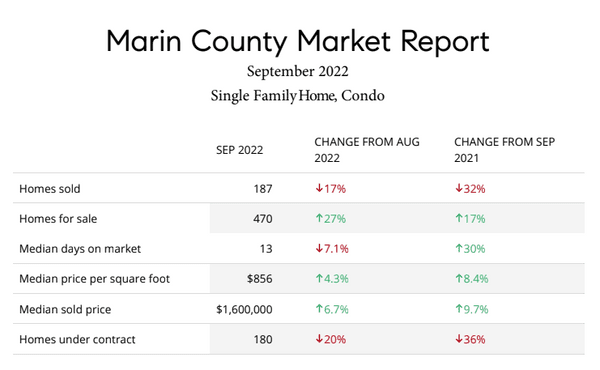 Statistical, Psychology, Expectations and the Definition of Buyers' & Sellers' Markets in San Francisco Bay Area Real Estate
Statistics and the Definition of Buyers' & Sellers' Markets
So-called "buyers' markets" and "sellers' markets" have typically been defined by certain statistical thresholds: Depending on readings for months-supply-of-inventory, absorption rate, days-on-market or other metrics, the market is pronounced to be relatively "balanced" between buyers and sellers, or to favor one party or the other, typically in terms of negotiating power and home-price appreciation.
But it is actually buyer and seller psychology that determines the balance between the parties, and the perception of what constitutes a heated (sellers') or weak (buyers') market can change considerably depending on what people get used to. If it becomes the norm that listings sell within 1-7 days, with wild overbidding by a surplus of buyers, then getting 1 offer at or below list price, or no offers, after 15-20 days seems like a huge shift – causing anxiety on the selling side, and concern on the buying side (why hasn't this home sold yet?) – even if, historically speaking, 15-20 days is a relatively short time on market. If it becomes typical that buyers' choice of listings is rarely more than 1 or 2 homes, usually snapped up before day's end, it's an almost shocking change to see 4 or 5 active listings, most still available a week later, even if that would have been considered normal or low inventory a few years earlier.
This is what has occurred since the end of the, often wildly overheated, pandemic boom. Abnormal market conditions – by far the lowest interest rates, months-supply-of-inventory and days-on-market; by far the highest stock values, absorption and overbidding rates, in history – became the norm for almost 2 years. When those indicators cooled in the Bay Area in Q2-Q3 2022, very significantly on a percentage basis – 1⁄2 to 1 month of inventory jumping to (a still historically low) 2 to 2.5 months; a median of 6-8 days-on-market climbing to (a still relatively low) 18 to 24 days – the speed and scale of change altered the balance of power to buyers' advantage. Appreciation and overbidding rates have generally plunged, and price reductions soared, though many homes still sell quickly if priced correctly.
Older interpretations of statistical thresholds for defining buyers' and sellers' markets – often found online or in the media – are based on market-activity norms that no longer apply.
Demand has clearly weakened significantly due to the economic headwinds of 2022 – inflation, interest rates, financial market volatility – but buyer, seller, and agent expectations have also been somewhat twisted out of whack, fundamentally changing how we psychologically perceive and react to existing market realities. What might have been considered relatively healthy market dynamics are now seen as distinctly anemic in comparison to the pandemic boom. With the current market correction in progress, what will ultimately be considered heated, balanced or weak remains in flux while the market adjusts to the economic and demographic changes still in process.
The two charts which follow, illustrating Bay Area changes in inventory and time on-market since 2011, speak to the shifting norms of supply and demand over the past 12 years.
Note: Market conditions, as measured by standard industry statistics, differ between regional markets and between price segments. The dynamics of distinct markets varied during the high-tech and pandemic booms: In each period, depending on a number of factors, some regions or segments experienced more dramatic changes in demand. However, generally speaking (and there are exceptions), Bay Area markets have seen similar trends, heating or cooling roughly in parallel during recent market eras – whether subprime boom, foreclosure crisis, high-tech or pandemic boom, or now during the current market adjustment.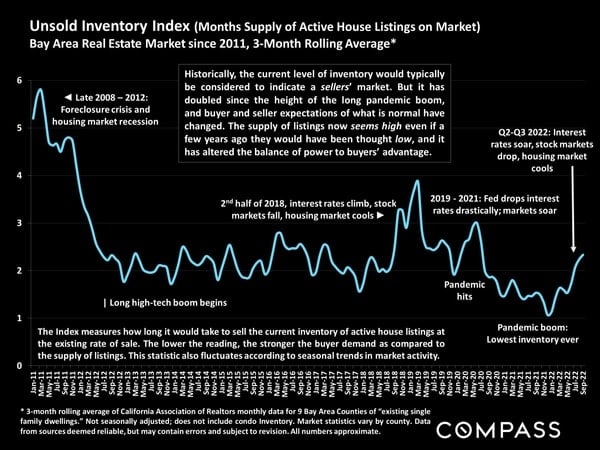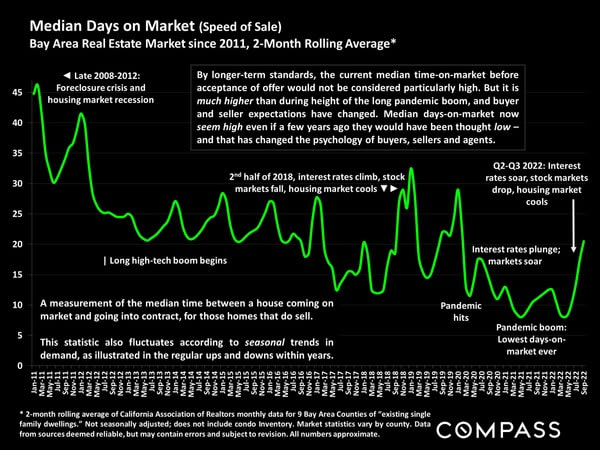 Marin County Sales Map