Local Bay Area News
Bay Area market sizes, population densities and employment trends.


Over 80% of the $80b (11/17-11/18) Bay Area sales are in counties that have experienced tremendous job growth. Namely San Francisco, San Mateo, Alameda, Contra Costa and Santa Clara counties. Southern Marin has benefited from its close proximity to the City in recent years, although it only occupies 5% of the total sales volume.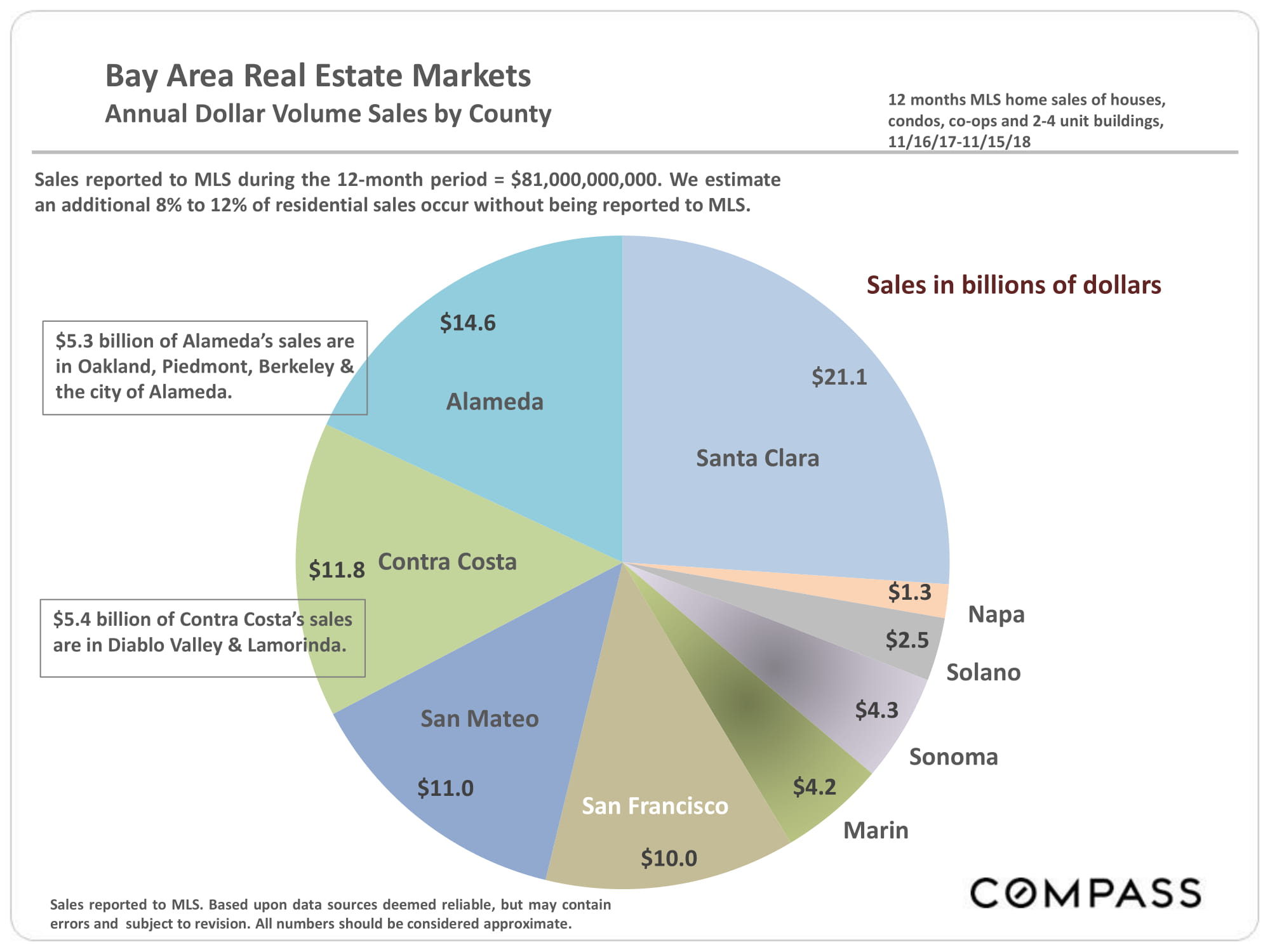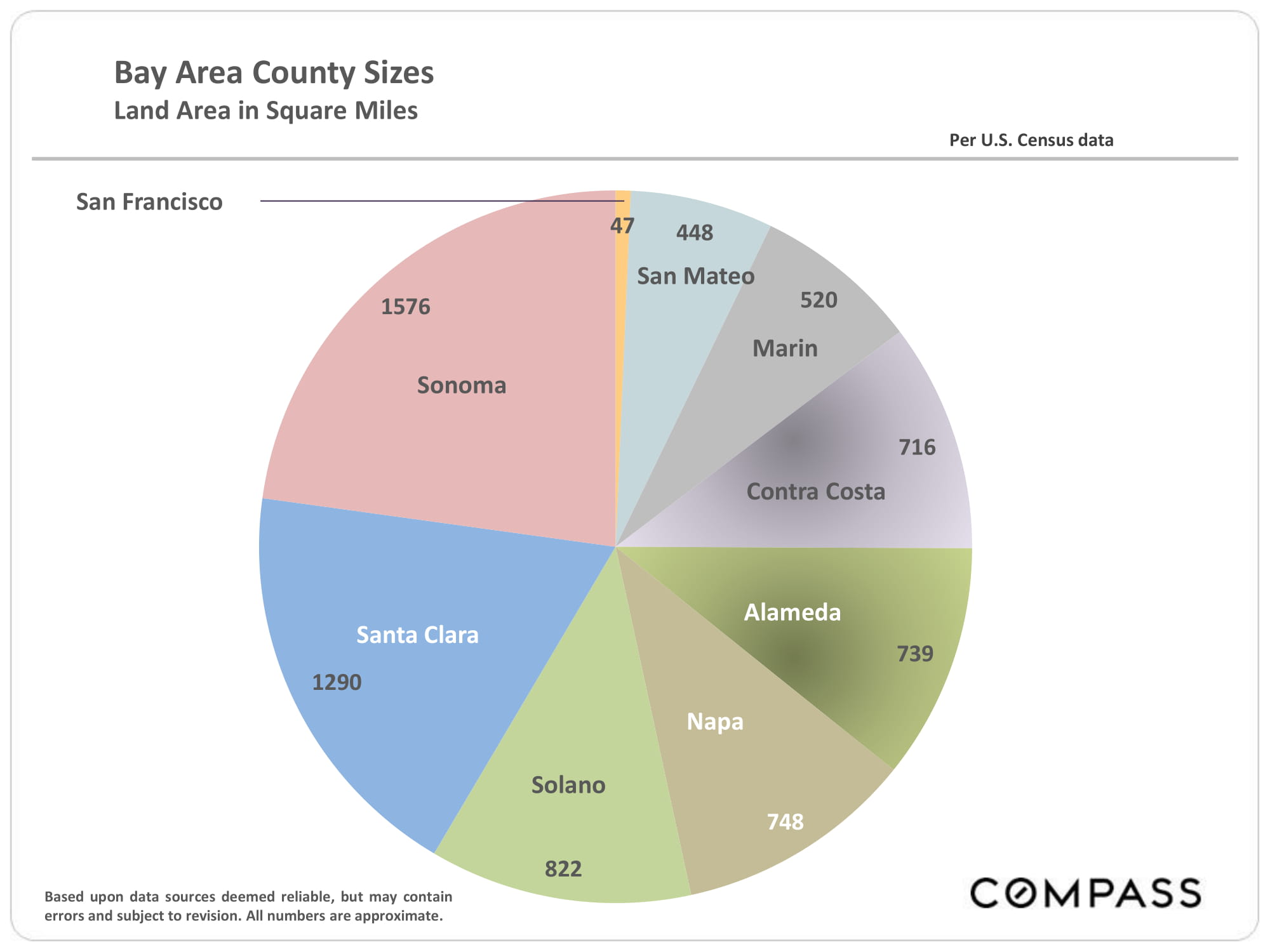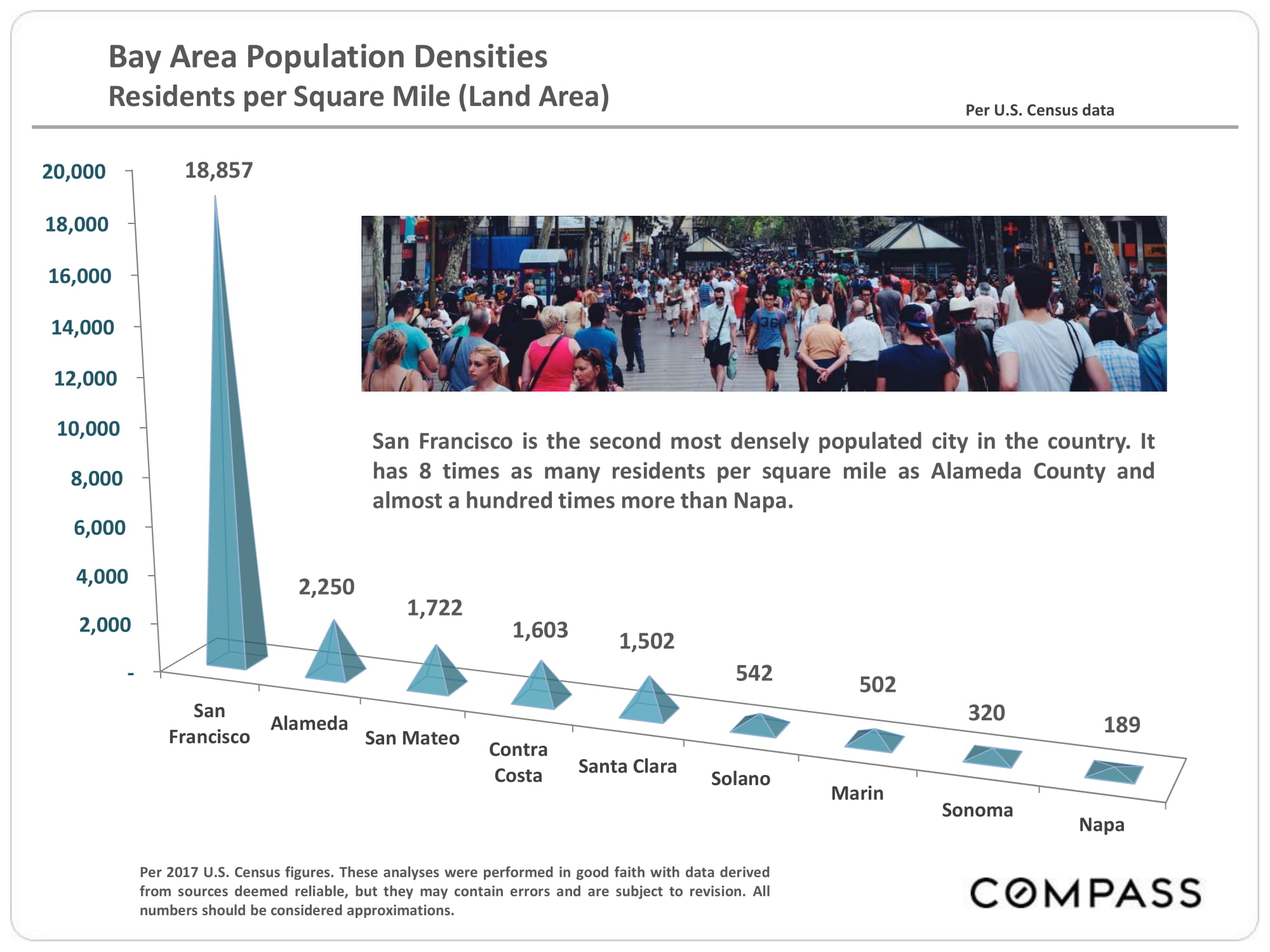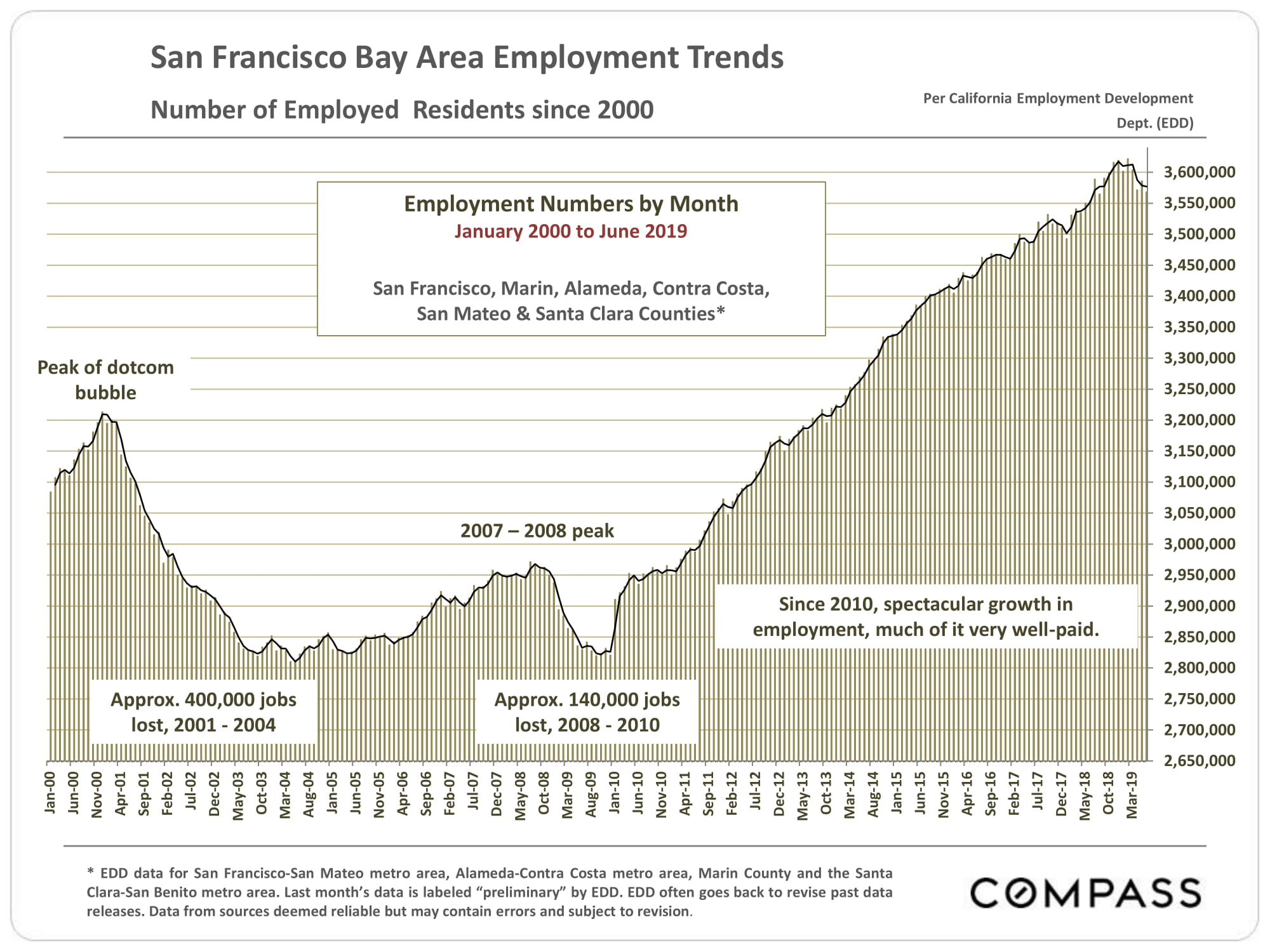 Bay Area Home Appreciation


Historically high home valuations peaked in January of 2018, so it should come as no surprise to see valuations cooling off on average across all Bay Area counties. We should expect periodic fluctuations, but it's important to note that since January of 2019 monthly home valuations have retreated into negative territory, which is the first retreat since the 2011-2012 time period.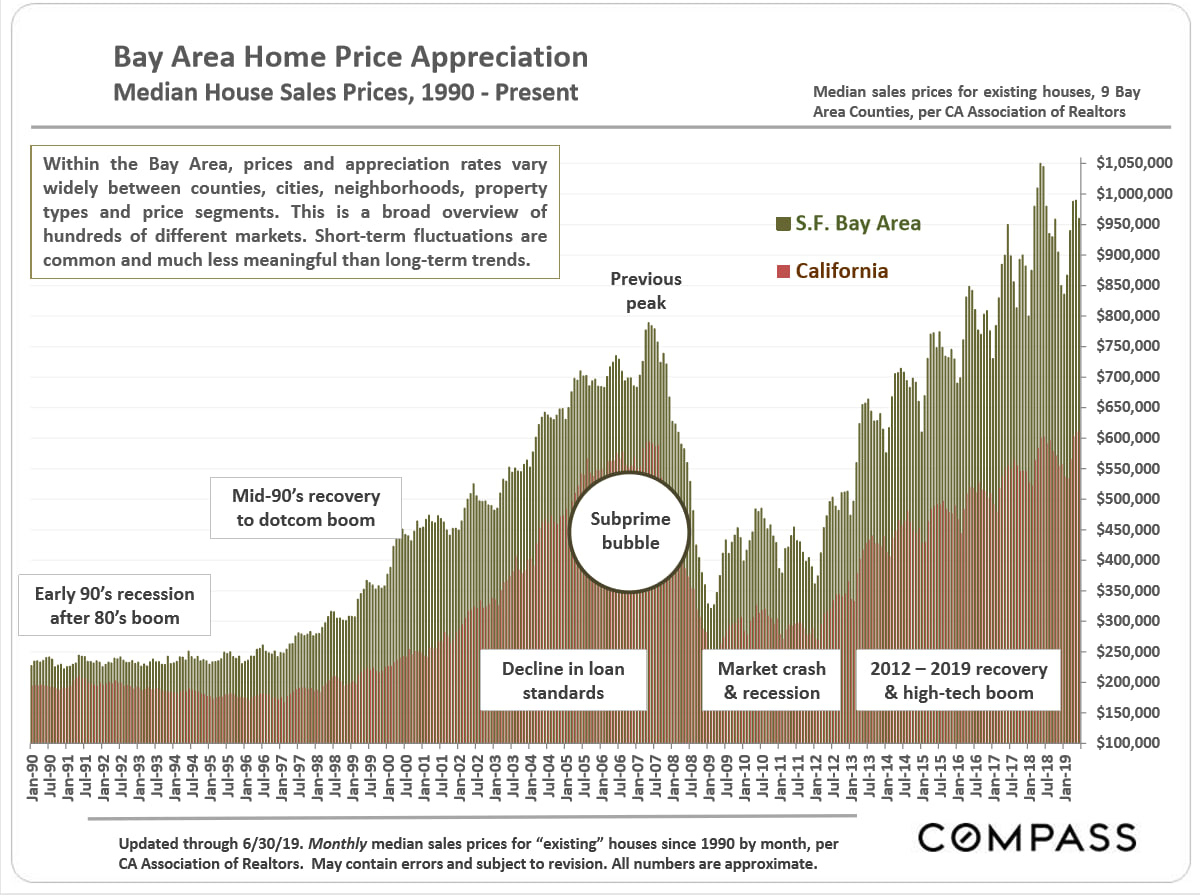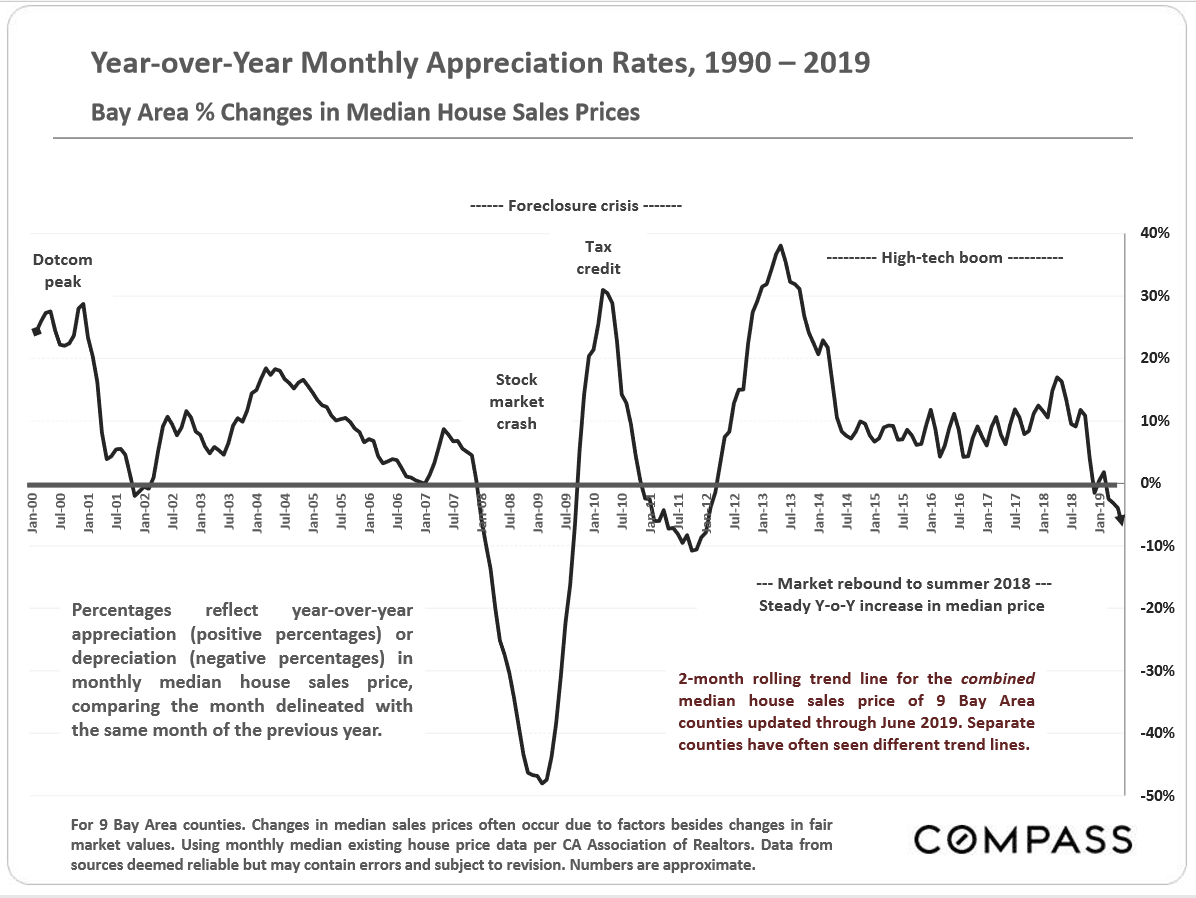 Historically high home valuations peaked in January of 2018, so it should come as no surprise to see valuations cooling off on average across all Bay Area counties. We should expect periodic fluctuations, but it's important to note that since January of 2019 monthly home valuations have retreated into negative territory, which is the first retreat since the 2011-2012 time period.
Around Marin
Now in its 63rd year, the Mill Valley Fall Arts Festival presents the highest quality art from experienced and emerging artists. Join us for the art, the food, the wine, the music and children's activities. September 14th and 15th at Old Mill Park, Mill Valley
The 22nd Annual Mill Valley Block
PartyHosted by Famous4 and Mill Valley's own Larry (the Hat) Lautzker, owner of the Famous 4 store on Throckmorton, is coming Sunday, September 29! There will be live music from a list of great local bands, local food vendors, drinks, and games for kids. Kiddo! will receive proceeds from the day's event.
Whether it's a state law requiring food-serving businesses to compost, the ever-growing list of cities banning plastics as to-go food containers – or the overwhelming desire to mitigate the impacts of the climate crisis – restaurant owners are increasingly interested in best practices on packaging and food waste disposal. We're hosting a Restaurant Forum on Mon., September 16, 2pm, in the Forest Room of the Community Center, 180 Camino Alto
I am so excited that the 42nd annual Mill Valley Film Festival is nearly here!


Jamie Foxx, Edward Norton, Olivia Wilde, Laura Dern, Robert Pattinson, Kristen Stewart and Lena Olin are among the luminaries expected to come to Marin for the 42nd anniversary Mill Valley Film Festival, considered one of the top 10 film festivals in the country, festival organizers announced Thursday.


The festival runs from Oct. 3 to 13


See you there!


There is a growing movement for vegan interior design. This not only excludes the obvious like leather, wool and cowhide rugs, but also most paints that contain casein derived from cows milk.
Click
here
for more information.
My New Listings Coming Soon
200 Summit Avenue, Mill Valley
Mid-century modern home located in the wonderful Middle Ridge neighborhood of Mill Valley. Four bedroom, two and a half bathroom main house plus a separate one bedroom apartment.


Decks, views and privacy abound!


Walk to town and schools!
Coming Soon
10 Brentwood Avenue, San Rafael
Listed at $1,335,000
Turn key 3 bedroom, 2 bathroom remodeled home with amazing back yard and beautiful pool in the highly desirable Glenwood neighborhood.
Please call or email me for further information.415-609-4473
Sale Pending
27 Spring Road, Lagunitas
Listed at $ 1,475,000
This rare and exceptional home and property is located in an outdoor enthusiasts paradise offering amazing privacy and fabulous views in all directions! Close enough to the city to enjoy the offerings of San Francisco but "just far enough" to feel country.
Located just 15 minutes to Fairfax, 20 mins to Point Reyes, 30 Minutes to Limantour Beach, 7 minutes to Spirit Rock Meditation Center, a short distance to the Ink Wells and an easy stroll to the MMWD watershed trails, up to San Geronimo Ridge Trail and many more choices from there. Approx. 0.5 miles away you can find access to the Peter's Dam Trail system (up and around Kent Lake) access to the bike path through Taylor State Park and trails up to Mt. Barnaby, The Shafter trail up to the Bolinas Ridge, Devil's Gulch Trail system.
Just Sold
420 Monte Vista, Mill Valley
Sold at $ 1,760,000


A fantastic Craftsman built in 1985 and located in the highly sought-after Cascade Canyon just up the hill from downtown Mill Valley & drenched in sunlight, with close to an acre of land & easy access to the Tenderfoot Trail & the Renz Steps which lead to downtown Mill Valley.


THE US ECONOMY
Recession Obsession
Recession talk has become somewhat obsessive over the past few weeks and many have reached out to me for my opinion on this subject. While I am reluctant to even mention the word so as not to add fuel to this chatter, I thought it prudent to address the subject more substantively. First and foremost, what is a recession? It is defined as a period of temporary economic decline during which trade and industrial activity are reduced, generally identified by a fall in GDP in two successive quarters. No, the economy does not stop. No, people do not stop living. Economic growth slows into a decline for two or more quarters.
The worst aspect of today's current chatter and fear is that if a recession were to come, it will be as bad as the last recession. The last recession was closer to a DEPRESSION. It was unusually harsh and most of the fundamentals that were at play then - massive subprime mortgage market and a global financial crisis - do not exist today, certainly not anywhere vaguely close to those levels. Much stricter banking regulations exist today. Humans remember that which is most recent: equating ALL recessions with the 2007-9 GREAT recession is unwise and overtly pessimistic. And even during 2007-9, GDP declined by 5.1%.
The next question is when will a recession strike? No-one knows the exact answer although some form of a recession is inevitable sooner or later. Yes, there are certain indicators now that have in the past warned of possible recession: They do not necessarily apply to ALL recessions. Currently the US is experiencing outstanding employment numbers: when people are employed, they earn, spend, pay their mortgages and rent and don't require government assistance. GDP growth is currently over 2% annualized. The trade wars are a drain on growth, but hopefully these are resolved sooner rather than later.
Here are some facts about recessions since - and including - the Great Depression, a once-in-a century occurrence:


64% of recessions since 1929 lasted under 1 year
There have been 14 recessions total since and including the 1929 Great Depression of 1929, or one every 6.4 years. We have not had a recession in 10 years.
The average GDP decline during recession was 5.9%. This average is enormously swayed by including the Great Recession AND the Great Depression where GDP declined by 26.7%! In the past 50 years the average decline was just 2.2%. Currently the USA GDP is growing over 2% annually.
57% of all these recessions/depression had a GDP decline of less than 3%.
Unemployment rose above 10% in only three recessions. In the past 50 years, unemployment averaged 8.25% during recession.
Many buyers think waiting till a recession hits will allow them to buy 'bargains'. This may be true for some all-cash buyers, although history has taught us that when a recession hits:


The best properties are often withdrawn from the market IF there are signs of price declines. Home prices don't always decline.
Interest rates may be lowered, but obtaining financing becomes tougher as banks usually tighten lending standards.
If you lose your job, its almost impossible to obtain a mortgage.
Cash buyers are always waiting for opportunity moments to buy. Competing with these buyers is tough enough during good times. Its worse during tough times.
So much depends on employment: 70% of the USA economy is consumption and when people are employed they consume. Even during these crazy times with bad news broadcast 365-24-7, the US consumer is strong.
Rents tend to rise during recessions as fewer people qualify for a mortgage to be able to buy.
Even during strong economic times, economic advisors give a 20% chance of recession.
During recessions, hobby-real-estate agents leave the profession and allow committed professionals increase market share.
While I think speaking about recessions can fuel un-necessary fear, I also think its important for us to be clearly aware of what they are, how often they happen, and how unreliable predicting their timing can be. We should also be well versed in arguing the subject with our clients and colleagues. Most importantly, we need to remind ourselves that even in the WORST recessions life goes on: people get married, divorced, die, give birth, etc and the vast majority continue working and earning.....and living. In this lies an abundance of real estate opportunity.


Protecting Our Oceans

A topic near and dear to my heart.


The tide of environmental studies showing the harmful effects of litter and mismanaged waste on oceans are seemingly everywhere. For example, 8 million metric tons of plastics wind up in streams, rivers and waterways each year, according to research published in "Science."
If you would like to read more on this click
here
.
Feeling Philanthropic, Consider Donating to Climate Ride!
Hi Friends! I am so excited to be leading a team in a fundraising ride organized through Climate Ride here at Walker Creek, Marin County on Sept 27-29, 2019! This event will draw over 200 participants from across the United States in a 2-day event which encompass speakers, farm-to-table cuisine, activities for the family and of course, cycling around beautiful Marin Country and beyond.
Please consider supporting my effort to raise awareness of climate change, sustainable solutions, and active transportation advocacy!


The health of our planet, economy, and communities is at stake. Right now, it is more important than ever to work toward a sustainable future. A great way that you can help do something meaningful, substantial and concrete is to support my fundraising. Your generous donation is an investment in a healthier, safer future and will help Climate Ride to make this a reality.
Thank you for your consideration!