Local Marin Market
With real estate statistics, one is usually looking in a rear-view mirror: It takes a while for data to come in and then adjust to changes (late reported accepted offers and sales, deals falling out of contract, listings going back-on-market, back-dated listings, etc.). 2+ weeks have gone by since the end of September, so the numbers below should be a relatively fair representation of September's market even if the exact numbers change.
The first table is for all house and condo listing, accepted-offer and closed sale activity, and the second is for properties listed or sold for $2 million+. I've highlighted the September stats for the past 3 years. Sales in September mostly reflect accepted-offer activity in August, which is why it is usually one of the lowest-sales-numbers months of the year.
How this data applies to any particular listing is unknown. More definitive data on the autumn market will start becoming available in about 3 weeks when we have approximate closed sales data for October.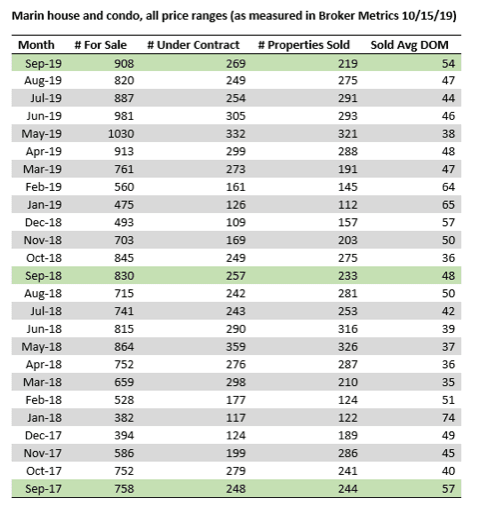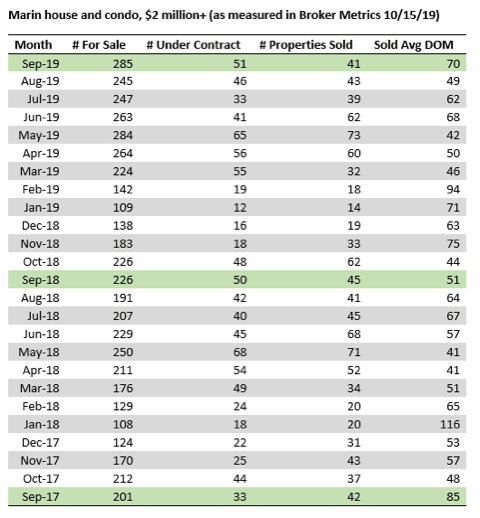 Earthquake Early Warning Alerts
Earthquake early warning alerts have become publicly available throughout California for the first time, potentially giving people time to protect themselves from harm.
The nation's first statewide quake warning system debuted last Thursday, coinciding with the 30th anniversary of the Loma Prieta earthquake that ravaged the San Francisco Bay area on Oct. 17, 1989, as well as the annual Great Shakeout safety drill.
Contingency offers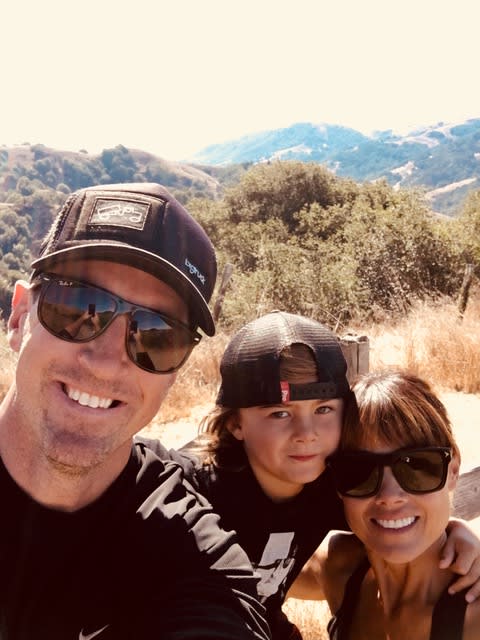 Who says that contingency offers do not work? I just closed on 2 properties with a contingency sale. We made an offer on 290 Riviera contingent on the successful sale of the buyers home at 10 Brentwood in San Rafael. The offer was accepted as I made a case for the fast sale of Brentwood. We went in to high gear, preparing their property for sale and I listed it within a week. We soon received 2 offers and sold 10 Brentwood for over asking. These happy clients got to buy one home and sell another without a bridge loan and without the need for an interim move in to a rental.
Around Marin
Saturday, October 26, 2019 at 9 AM – 2 PM
Meet us at the Farmers Market for our annual Halloween festival!
We will be holding our usual costume contest for kids & dogs (meet Hugo, the Mart Mascot!!) plus guess the weight of the giant pumpkin for a prize!
Face painting, pony rides, crafts, make your own caramel apples, and pumpkin patch fun await for you & yours all day long!
October 26, 2019 10:00 AM - 2:00 PM


Central Marin Police Authority Larkspur Station: 250 Doherty Drive or San Anselmo Station: 525 San Anselmo Avenue
The Drug Enforcement Administration (DEA) has organized the National Prescription Drug Take Back Day.
Please visit the nearest collection site to turn in your unused or expired prescription medication for safe disposal.
Performers:The Mother Hips Pacific Range


Thursday October 31, 2019


Doors: 7 PM / Show: 8 PM
Twenty-five years into a celebrated career is an unlikely time to switch things up, but The Mother Hips have never been ones to follow convention. For their brilliant and exhilarating new release, 'Chorus,' the California stalwarts turned their recording process on its head, laying down elaborate studio demos to serve as a detailed road map for the album a full year before official recording sessions began.
Introducing the Compass Bridge Loan Program!
A Simple Solution to Bridge the Gap Between the Home You Have and the Home You Want.
Compass Bridge Loan Services gets you access to competitive rates and dedicated support from industry-leading lenders, with the exclusive option to get up to six months of your loan payments fronted when you sell your home with me.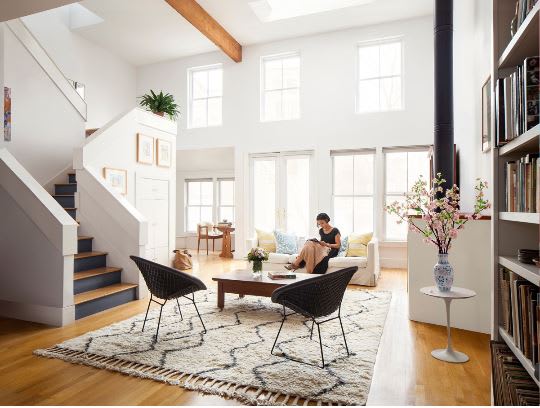 How It Works
01
Work with me to find your next dream home.
02
Apply and get approved for a bridge loan with the lender of your choice.
03
Work with me to get the first six months of your bridge loan payments fronted.
04
Move into your new home while I work to sell your current home faster and for more money.
05
When your old home sells, simply use the proceeds to pay back the bridge loan and any fronted monthly payments.
Curious to learn more?

Contact me

to discuss how Compass Bridge Loan Services could help you.
For Sale
Middle Ridge Retreat,
Easy walk to town!
200 Summit Avenue, Mill Valley
Listed at $1,845,000
Mid-century modern home located in the wonderful Middle Ridge neighborhood of Mill Valley. Four bedroom, two and a half bathroom main house plus a separate one bedroom apartment.
Decks, views and privacy abound!
Walk to town and schools!
Just Sold
10 Brentwood Avenue, San Rafael
Listed at $1,335,000
Turn key 3 bedroom, 2 bathroom remodeled home with amazing back yard and beautiful pool in the highly desirable Glenwood neighborhood.
Sold with multiple offers for $1,350,000
Just Sold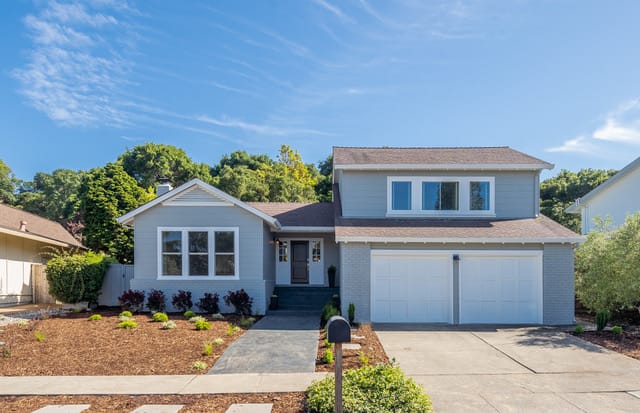 290 Riviera Drive, San Rafael
Sold at $1,700,000
This Beautiful Peacock Gap home has been renovated with incredible attention to detail. Open and spacious floor plan flooded with light, spectacular chef's kitchen complete with high-end appliances. 3 Luxurious Calcutta bathrooms including the spa like master. Spacious private yard boasting mature trees and massive lawn. A terrific location close to hiking trails, great schools, & a stroll along the Bay!


Climate Ride Patagonia!
Hi Friends, I am at it again and hoping for your support! In February of 2020 I will spend 7 days biking 100+ miles and hiking 60+ miles through Patagonia, to raise money for Climate Ride, an organization that I wholeheartedly support.
Like many of you I consciously strive to do my part to improve the condition of our planet as part of our day to day lives, but I want to do more. Climate Ride offers active fundraising activities to raise awareness of climate change, sustainable solutions, and active transportation advocacy. Climate Ride can do so much more to effect positive change at scale than we as individuals can do.
The health of our planet, economy, and communities is at stake. Right now, it is more important than ever to work toward a sustainable future. A great way that you can help do something meaningful, substantial and concrete is to support my fundraising.Your donation will benefit the programs and efforts of Climate Ride including their community scholarships for young sustainability leaders. Please help me to grow Climate Ride to become an advocacy powerhouse that engages people in the world of active environmental philanthropy and sustainable solutions.
You can make a secure online donation today by clicking on the link below. You'll automatically receive an acknowledgment and I will be notified. All donations are tax-deductible.
Please consider donating to this worthy cause and thank you for helping to make a difference for our children's tomorrow!
With my sincere gratitude,
Sharon xoxo